De Lady Gaga a Magic Johnsson, así celebraron los famosos la victoria de Joe Biden y Kamala Harris en las elecciones de Estados Unidos.
Joe Biden ganó las elecciones presidenciales de Estados Unidos, derrotando a Donald Trump y poniendo fin una presidencia que convulsionó a Estados Unidos y al mundo entero.
Tras el anunció de la victoria de la dupla Biden-Harris, algunos famosos han celebrado a través de sus redes sociales.
"Entre saltar en mi cama y llorar, no pude tuitear. He querido que él sea el Presidente desde 2006. Mi sueño se ha hecho realidad", expresó Cher a través de su Twitter.
BETWEEN JUMPING ON MY BED & CRYING I COULDN'T
TWT‼️I HAVE WANTED HIM TO BE PRESIDENT SINCE 2006🌟
MY DREAM HAS COME TRUE

— Cher (@cher) November 7, 2020
"Hoy es un día monumental. No importa de qué lado estés, tomemos un momento para reconocer lo lejos que han llegado las mujeres en este país. Me emociona tanto pensar en todos aquellos que rompieron los techos de vidrio y allanaron el camino para que una mujer finalmente sea vicepresidenta de los Estados Unidos", expresó Reese Witherspoon.
Lady Gaga, quien apoyó en todo momento a Joe Bien y Kamala durante su campaña política, expresó: "Joe Biden, Kamala Harris y el pueblo estadounidense le acaba de dar al mundo uno de los mayores actos de bondad y valentía que la humanidad haya visto jamás. Nada más que amor por nuestro nuevo comandante en jefe y a la primera vicepresidenta elegida para la Casa Blanca".
Kim Kardashian, pese a que apoyaba a Donald Trump e incluso se reunió con él en la oficina Oval de la Casa Blanca, compartió diversas imágenes con corazones demostrando su felicidad por el triunfo de Biden y Harris.
💙💙💙 pic.twitter.com/vz0wWY3zMS

— Kim Kardashian West (@KimKardashian) November 7, 2020
La mexicana Salma Hayek celebró a través de una historia en Instagram donde aparece celebrando el resultado que le dio la victoria a Biden-Harris.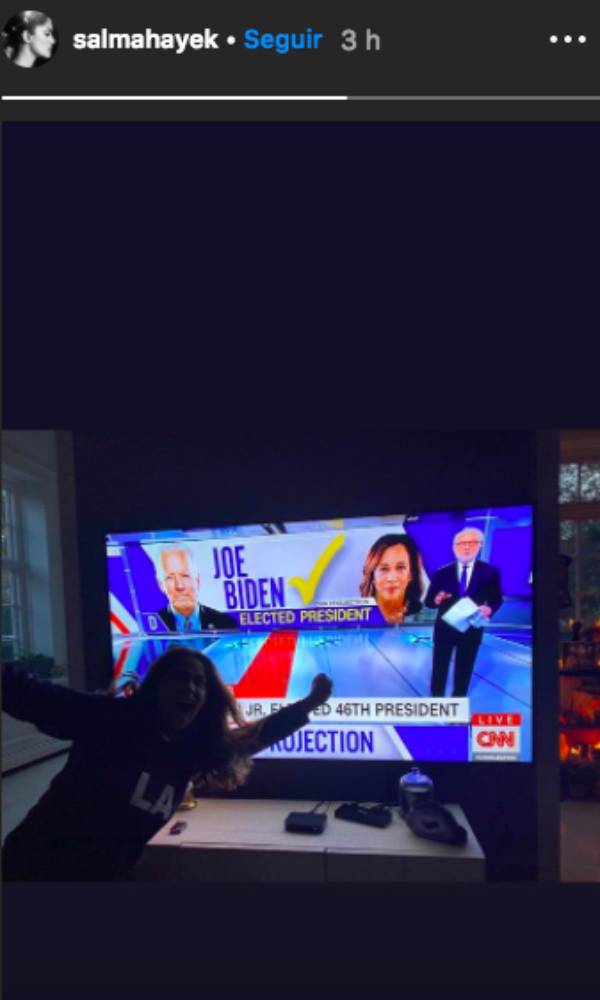 Shakira también se unió a los famosos que han expresado su felicidad por el triunfo de Biden-Harris: "Celebrando con mis hijos esta nueva etapa de unidad y sanación que comienza ahora con Biden como el nuevo Presidente electo".
Celebrating with my children this new phase of unity and healing that begins now with Biden as new president elect.

— Shakira (@shakira) November 7, 2020
"¡Lo hicimos! ¡Recuperamos América! ¡Gracias a Dios! ¡La democracia ganó! ¡Dios bendiga América!", expresó Eva Longoria.
El cantante Ricky Martin quiso festejar el triunfo de Joe Biden con una imagen que publicó en Instagram donde se puede ver una caricatura de la estatua de la libertad 'despidiendo' a Donald Trump. "Bye- bye", escribió.
Miley Cyrus celebró el triunfo de Joe Biden con un video que publicó en Twitter con el siguiente mensaje: "¡Ahora esta es una fiesta en los Estados Unidos!"
Now THIS is a PARTY IN THE USA! @JoeBiden @KamalaHarris 🇺🇸🎉 pic.twitter.com/zFKL1ncuSa

— Miley Ray Cyrus (@MileyCyrus) November 7, 2020
"Respeto, honor, verdad, integridad, amor, compasión, amabilidad. Gracias por caminar el camino Joe Biden y Kalama Harris. ¡Hoy es un buen día!", compartió Camila Cabello.
No podía faltar la celebración de Jennifer Lopez, quien compartió un video y un breve mensaje: "#SHMOOD! PRESIDENTE BIDEN !!!!!!! VICEPRESIDENTE KAMALA HARRIS!!!!!!"
Ariana Grande escribió un tuit en que expresó: "Llorando @JoeBiden @KamalaHarris Gracias Dios."
CRYING @JoeBiden @KamalaHarris 🤍🤍🤍🤍🤍🤍🤍 THANK GOD

— Ariana Grande (@ArianaGrande) November 7, 2020
Por Alejandra Morón Instagram: @moronitas